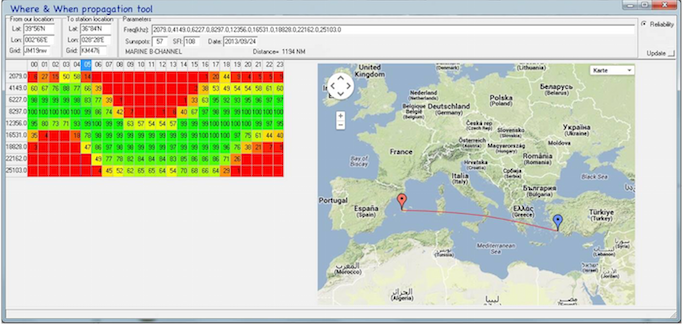 Windows XP to Windows 10
also usable with Mac e.g. using Parallels / Bootcamp
free test version
GPS support
free updates
Where&When provides the simplest user interface for Marine and Amateur HF SSB communications of any propagation tool available today. Using a map, Where&When allows the user to locate their position and the position of the other radio you are trying to contact. The calculations are then completed based on those locations.
To make the user interface even simpler, Where&When will use a GPS that is connected to your computer to tell the program where you are located. The user then need only point to the location they want to call using your mouse.
You can also add other frequencies that are important to your marine life such as the weather fax frequencies by location.
download for FREE now »
You can download and then use the software for FREE up to 5 times.
Then a licence key is needed and can be purchased separately:
Short information (German) What frequency do I use? Manual
With the Where & When tool it is very easy to find from anywhere in the world, the best frequency and time for a ssb radio link for me. thanks SY-Maris
Since i use the Where & When propagation tool, i finally gelable SSB contact with my friends. S/V Summerville
I have a lot of programs out of the HAM radio range tried, but your Where & When is exactly what i was looking for. Easy operation and accurately as a result. Many thanks Martin S/V Dancer
I have the program for the first time at the ARC 2013 from Las Palmas to St.Lucia as a net controler. Since i´am only a user in SSB gave me to keep this program helped contact with our fleet of 235 yachts. Without this program, i would have been completely overwhelmed with the job as Net controler. SY-Isabelle